What have you done at school today?
Here is where you will find information and photographs of the many fantastic events which happen at St. Mary's.
Class 1 - Christmas Counts.
Edale 2018
We had an excellent time during our recent residential in the Peak District. Please enjoy looking at a few of our photos.
Fun In The Snow - February 2018
Class 1's - Wriggly Nativity
November 2017
Here are some of the recent things children have been doing in this first week back after half term.
Space Day
Here are a few pots of the fantastic costumes we had the privilege to see during Space Day.
The VR journey through the solar system was fantastic.
Class 2's Roman Assembly.
Thanks to all of you who came to Class 2's Roman Assembly - what a great, fact full and interesting morning we all had. I hope you enjoyed it.
Well done Class 2.
Class 2 Roman Day.
Class 2 had a great time learning all about what it was like to be a real Roman centurion.
They looked fantastic as well.
World Book Day
World book day went down a storm. Here are a few photos of the brilliant costumes! Well done all of you!
Paired Reading
During book week children from each class were asked to be reading buddies for younger pupils. Here are some pictures of our children fulfilling this role.
Science Week 2017.
Here are just a few of the photos from Science week this year.
FA Trophy
Below are images of when the FA trophy visited our school. FC Halifax Town had won the trophy at Wembly during the month of May.
Whitby 2016.
Below are some of the great photos from Whitby this year. Enjoy.
Sports Day 2016
Thank you for the fantastic support during our sports day yesterday. The children performed tremendously, as did the parents. I think you will all agree the 'House Standards' which the children carried looked incredible - all thanks to Frank Darnley for designing and making them.
Smiling faces at the Ryburn feeder schools cross country tournament this morning!
Everyone who took part performed fantastically well and made the school very proud.
Well done everyone!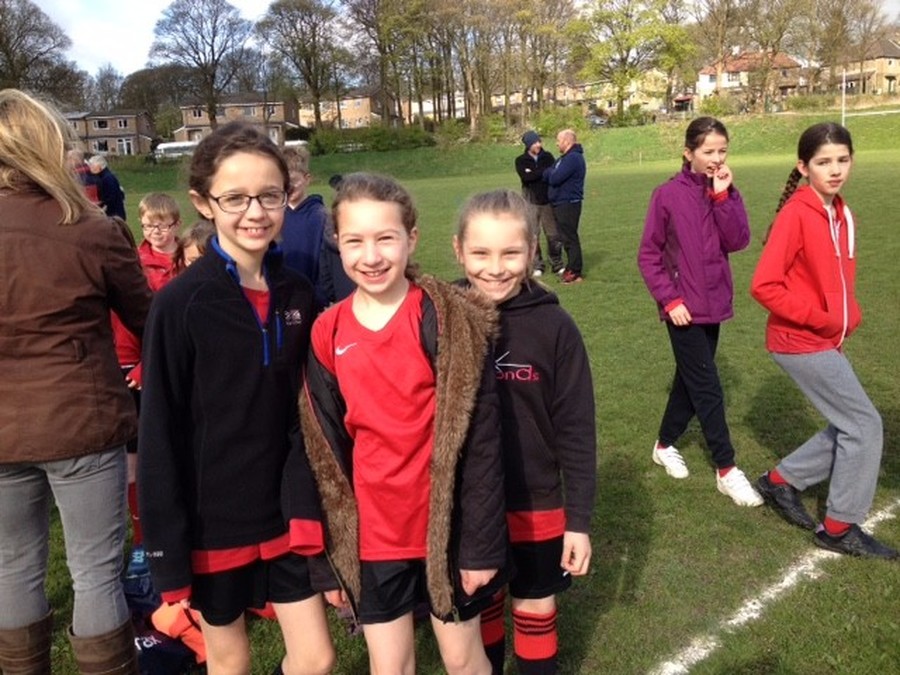 Over this last half term our Year 6 have been taught street dance. Below are two videos of their routines for you to enjoy.
Decades Day.
Just before the February half term St. Mary's celebrated recent history by holding a day dedicated to the last five decades of the last Millennium.
Our school was transformed into a museum where each classroom housed relics from a particular decade (50's, 60's, 70's, 80's and 90's) - some of which were alive!
Children spent the day dressed in clothing inspired by the decade their class had chosen and were split into their house teams to explore the decades.
It was a great success.
As a school we would all like to say a huge thank you to everyone who helped supply relics and to all parents for the effort made in preparing children's costumes.
Have a look at the photos!
Father Christmas Visits School, Dec 2015.
Father Christmas visited school yesterday delivering presents to all the children in Class 1 as well as providing class presents for each class in the school. We were all incredibly lucky.
Class 3's Finished Tiles.
Have a look at our superb finished tiles, Class 3 are incredibly proud of them. Look out for them on display in Sowerby Bridge.
Class 3 Glazing Clay Tiles.
Class 3 glazed the tiles they created last week to make them into 3D interpretations of the fairytales they have written in conjunction with the 'Winterlight' festival in Sowerby Bridge.
We cant wait to see the finished tiles.
Decorating the Christmas Tree.
On Tuesday the 1st of December everybody was involved in decorating the Christmas tree in the hall. Everyone did a super job. We even had a little dance to some Christmas music!
Ceramic work in Class 3 - Fairy-tale Settings.
Class 3 have been creating ceramic tiles depicting scenes and patterns/shapes from their fantasy worlds. The tiles will be fired in a kiln, then painted with glaze, fired again to create a final finish. Once completed the tiles will be on display with the fairy-tales they have written. Good work Class 3.
Class 2 were successful in securing a training session with the Huddersfield Giants rugby team. They had fantastic Autumn weather for it as well.
Below are a few photos from many of the events that have taken place over the Autumn term so far.
Owl Hunt 2015.
What a hoot we all had at the owl hunt this year. Thank you to all who came and supported the school as well as providing a budding audience for our young poets.
Classes 3 and 4 had a great time on the residential trip to Edale in the Peak District. Have a look at some of the photos below.
Class 1 enjoyed their own Tour De Yorkshire on Friday 1st May. We used Google maps to design maps of our route; Year 1 timed the laps in Stage 1 and 2; we then worked out who was the fastest in each stage and overall.
'Where did you get that hat?'
How fantastic were our Easter Bonnets?
Well Done all of you (and everyone at home who helped).
Click on the photos to move onto the next!
Have a look at Class One's decorated eggs on the theme of 'Superheroes'. Well Done Arthur (Year 1 winner) and Ethan (Reception Winner). Cottonstones Preschool came to join us rolling the eggs down the hill.
On Friday 27th March we planted the trees donated by The Mill Bank Group and our Time Capsule.
Monday 2nd March 2015
What a fabulous effort everyone made with their 'Book Character' costumes ! Well Done everyone and Thank You all at home who helped. See some of our photos below.
Class 2's Victorian Experience at Bankfield Museum
Class 2 have been studying Victorian Britain this half term, in particular what life would have been like for children during that time. They visited Bankfield Museum this week and spent the day looking at Victorian clothing and toys.
Have a look at the super photos below.
Class 3's Danelaw trip.
Class 3 had a fantastic visit to Danelaw Viking village on Monday the 19th of January to enhance their understanding of their new topic about 'Invaders and settlers in England'. They lived the day as a viking would, made a lamp, fought an Anglo Saxon and had a jolly good time. Below are some of the pictures from the day.
Parliament Week.
Class 3 have been learning all about parliament and democracy this week to coincide with national parliament week. It culminated in the right honorable Craig Whittaker MP visiting school on Friday morning to take part in a question and answer session with the children.
Mr Whitaker was very impressed with the standard of questions and the behaviour of our children. Saying it was one of the best schools he had been given the opportunity to go into.
He even invited us to visit the house of commons!